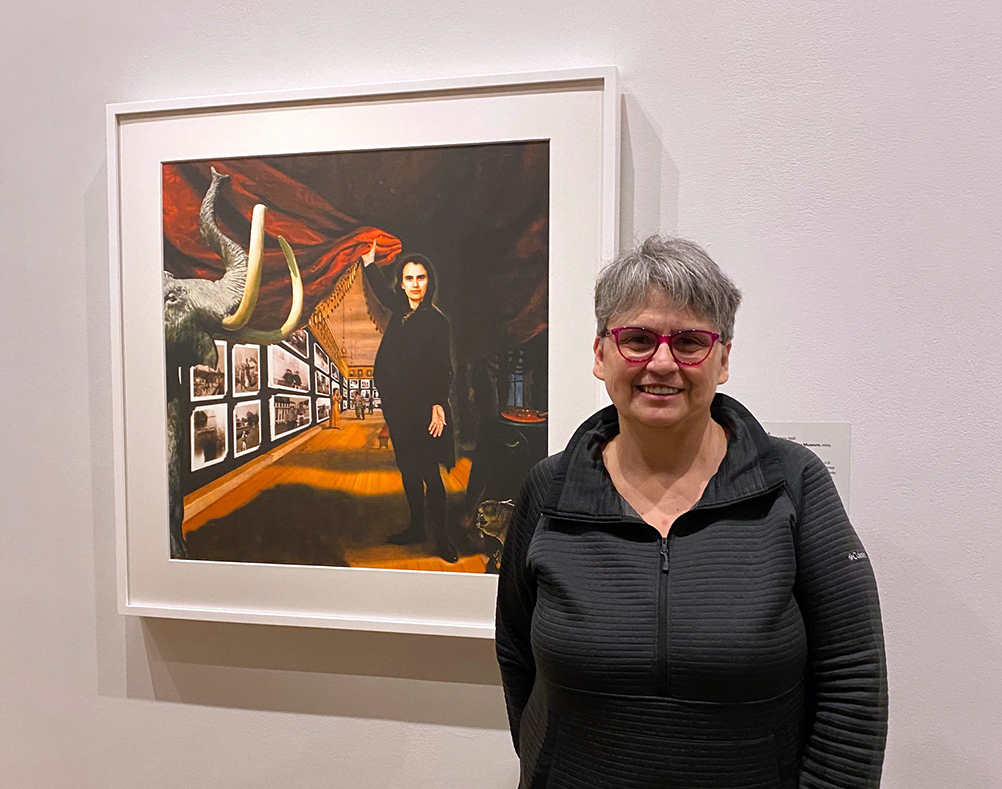 ABOVE IMAGE: Rosalie Favell in front of her work "The Artist in Her Museum" at the Smithsonian's Renwick Gallery, February, 2020.
Hearts of Our People: Native Women Artists has now opened at the third location on its tour. On February 21, 2020 the exhibition, which has included 117 artworks by 115 Native women, opened at the Renwick Gallery in Washington D.C. The exhibition launched June 2, 2019 at the Minneapolis Institute of Art (MIA) then went on to the Frist Museum in Nashville, Tennessee (September 27, 2019 – January 12, 2020). After the Smithsonsian, Hearts of Our People will move on to its final location at the Philbrook Museum of Art, Tulsa, Arizona from June 28 to September 20, 2020).
Along the way, this groundbreaking exhibition has garnered much press, raising public awareness of contemporary art produced by Indigenous women. Hearts of Our People has been featured in such publications as the New York Times, The Guardian, Art Forum, HyperAllergic, First American Magazine as well as Vogue. Co-curated by Jill Ahlberg Yohe and Teri Greeves, the planning also included an advisory board of 21 Indigenous artists along with both Indigenous and Non-Indigenous scholars from both the United States and Canada.
"Hearts of Our People will help visitors understand the role of Native women artists in serving the cultural, economic, diplomatic, and domestic needs of their communities, while also going beyond the longstanding convention of treating these artworks as unattributed representations of entire cultures. The recent works on view, in particular, will highlight the intentionality of the individual artist and demonstrate how the artist has been influenced by the preceding generations." – First American Magazine, July 25, 2018 (read more)

"The role of women art-makers in Native communities has gone widely ignored. Now a bold museum show, by and for these women, is shining a light on 1,000 years of their art." – The New York Times, May 31, 2019 (read more)

"Walk into most museums and there might be something missing on the wall labels beside Native American artworks – an Apache dress from the 19th century might just read: "Title, year, materials." What's missing? The artist's name. Though many of the artists' names were not recorded, and will forever be anonymous, many that have been recorded are now being recognized as never before. Hearts of Our People: Native Women Artists is the first ever museum retrospective of Native American and Canadian female artists. It opened at the Minneapolis Institute of Art, and until 18 August, over 115 artists from 50 Native communities are being given the credit they deserve." – The Guardian, June 13, 2019 (read more)

"From the advisory council who gathered for long-term curatorial visioning, to the engagement with ancestral artistic inheritance, Hearts of Our People has developed new traditions within the institutional complexity of the fine art world. Hearts, a prescient title, is an appropriate front-facing sentiment as both a mode and a context for looking." – HyperAllergic, August 15, 2019 (read more)

"There was much to commend in "Hearts of Our People: Native Women Artists," a survey of one thousand years of art by Indigenous women through 125 works. The exhibition didn't rely on the usual curatorial model, in which non-Native curators assemble Indigenous art based on geographic or formal affinities, sometimes with a small group of Indigenous advisers to legitimize their efforts."- Art Forum, September, 2019 (read more)
For more information on Hearts of Our People: Native Women Artists visit the Minneapolis Institute of Art website.
Hearts of Our People: Native Women Artists, Press Preview
from
Minneapolis Institute of Art
on
Vimeo
.