2020 artsfile: Art from the home front revealed at Canadian War Museum
2019 Minneapolis Institute of Art: Hearts of Our People – Native Women Artists (Exhibition Catalogue)
2019 CBC Unreserved: Uncovering the complicated history of blankets in Indigenous communities
2019 Eastern Door Network: Science Meets Art
2019 University of Toronto Scarborough: Nanabozho's Sisters (Exhibition Catalogue)
2018 Latcham Art Centre: Rosalie Favell: Shifting Focus (Exhibition Publication)
2018 Winnipeg Free Press. An Artistic Reckoning with Cultural Identity.
2018 Herizons: Indigenous Women's Art Goes on Public Display
2018 Indigenous Art Centre: The Indigenous Art Collection – Selected Works 1967-2017
2018 Ottawa Art Gallery: Àdisòkàmagan / Nous connaître un peu nous-mêmes / We'll all become stories (Exhibition Catalogue)
2017 Queer Arts Festival: Unsettled (Exhibition Catalogue)
2017 Art Gallery of Ontario: Every. Now. Then: Reframing Nationhood (Exhibition Catalogue)
2017 McGill-Queen's University Press: Desire Change: Contemporary Feminist Art in Canada
2015 Canada Council: Temporal Re-Imaginings
2015 Winnipeg Free Press: Sideshows Play to WAG Strengths
2015 Regina Leaderpost: Photo-based art showcases indigenous creative community
2015 Muskrat Magazine: ROSALIE FAVELL: (Re)Facing the Camera at MacKenzie Art Gallery
2014 Winnipeg Free Press: Multi-artist exhibit plays with notions of Winnipeg's history, mythology
2013 Vault Review: Proposing Parity – Changing the Display of Aboriginal Women Artists
2013 Winnipeg Free Press: Works from WAG's Photography Collection Explore the Ways We Choose to Picture 'Family' Say Cheese!
2012 Canadian Art: Rosalie Favell wins 2012 Karsh Award
2012 Winnipeg Free Press: Muddying the Waters
2012 Frontiers – A Journal of Women's Studies: Women, House, and Home in Contemporary Canadian Aboriginal Art: Hannah Claus, Rebecca Belmore, Rosalie Favell.
2012 Ottawa Citizen: Following the red brick road: award-winning photographer finds her way home
2011 The Cultural Work of Photography in Canada
2012 Ottawa Sun: Rosalie Favell wins 2012 Karsh Award
2012 Akimbo: Faraway Nearby
2012 Cargo Collective: A Conversation with Rosalie Favell and Erin Marie Konsmo
2011 McGill-Queen's University Press: The Cultural Work of Photography in Canada
2011 Dissertation by Jessie Short: All of My Blood is Red – Contemporary Metis Visual Culture and Identity
2008 Othered Women: Curator's Essay
2000 Ciel Variable: Rosalie Favell: Longing and Not Belonging
1994 Dunlop Art Gallery: Living Evidence
SELF PUBLISHED TITLES: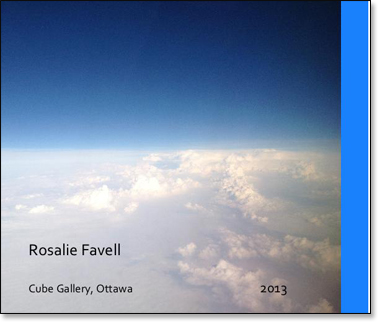 Rosalie Favell Cube Gallery, Ottawa 2013