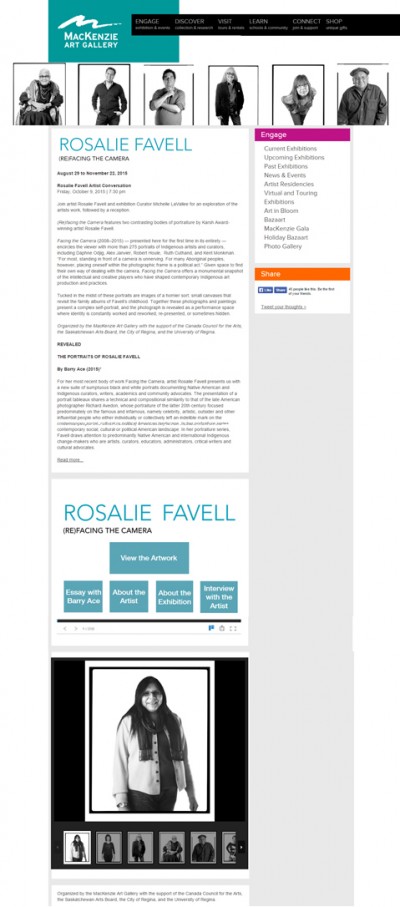 From MacKenzie Art Gallery Website:
(Re)facing the Camera features two contrasting bodies of portraiture by Karsh Award-winning artist Rosalie Favell.
Facing the Camera (2008–2015) — presented here for the first time in its entirety — encircles the viewer with more than 275 portraits of Indigenous artists and curators, including Daphne Odjig, Alex Janvier, Robert Houle,  Ruth Cuthand, and Kent Monkman. "For most, standing in front of a camera is unnerving. For many Aboriginal peoples, however, placing oneself within the photographic frame is a political act." Given space to find their own way of dealing with the camera, Facing the Camera offers a monumental snapshot of the intellectual and creative players who have shaped contemporary Indigenous art production and practices.
The Exhibition runs from August 29 to November 22, 2015
Rosalie Favell Artist Conversation
Friday, October 9, 2015 | 7:30 pm
Join artist Rosalie Favell and exhibition Curator Michelle LaVallee for an exploration of the artist's work, followed by a reception.

REVEALED: THE PORTRAITS OF ROSALIE FAVELL
By Barry Ace (2015)*
For her most recent body of work Facing the Camera, artist Rosalie Favell presents us with a new suite of sumptuous black and white portraits documenting Native American and Indigenous curators, writers, academics and community advocates. The presentation of a portrait tableaux shares a technical and compositional similarity to that of the late American photographer Richard Avedon, whose portraiture of the latter 20th century focused predominantly on the famous and infamous, namely celebrity, artistic, outsider and other influential people who either individually or collectively left an indelible mark on the contemporary social, cultural or political American landscape. In her portraiture series, Favell draws attention to predominantly Native American and international Indigenous change-makers who are artists, curators, educators, administrators, critical writers and cultural advocates.
* This essay has been revised and reprinted with the permission of Barry Ace. Originally published in Facing the Camera: Rosalie Favell. Winnipeg: Urban Shaman, 2012. An exhibition catalog.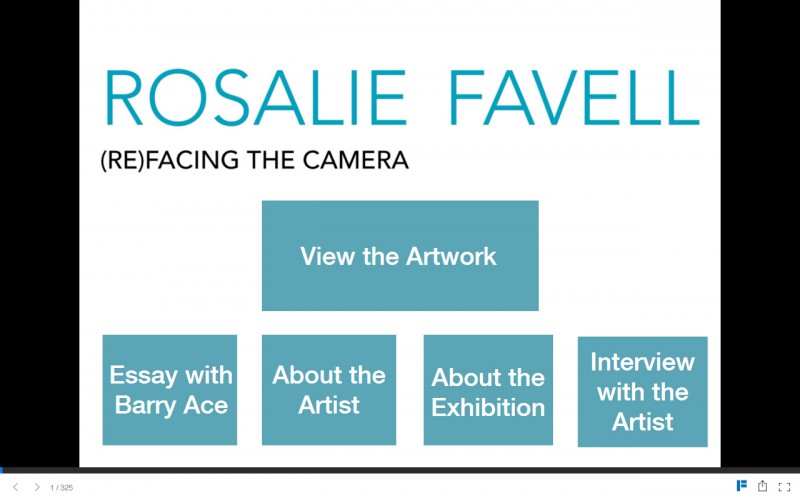 ABOVE: Screen capture of "(Re)facing the Camera" Online Exhibit, Mackenzie Art Gallery website
As part of the (Re)facing the Camera Exhibit the Mackenzie produced an online component of the show that can be viewed on their website. Along with the complete set of portraits from the original Facing the Camera series you can also read an interview between myself and curator Michelle LaVallee.
Click here and scroll down the page to access the online exhibit.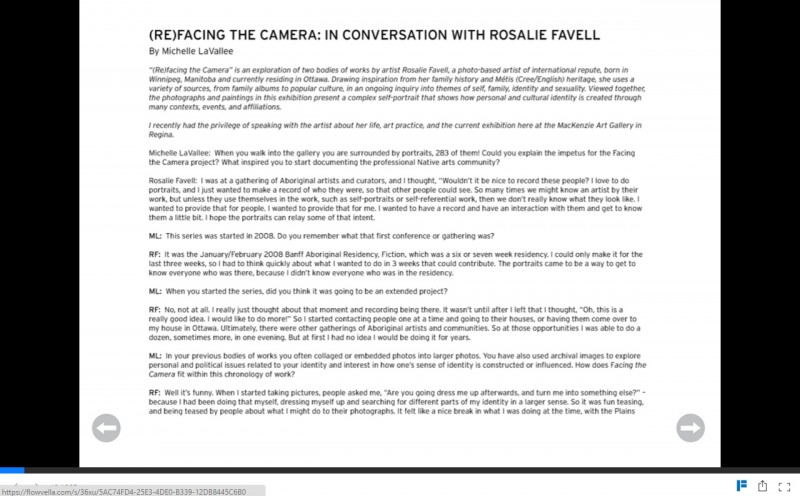 ABOVE: Screen capture of "(Re)facing the Camera" Online Exhibit, Mackenzie Art Gallery website