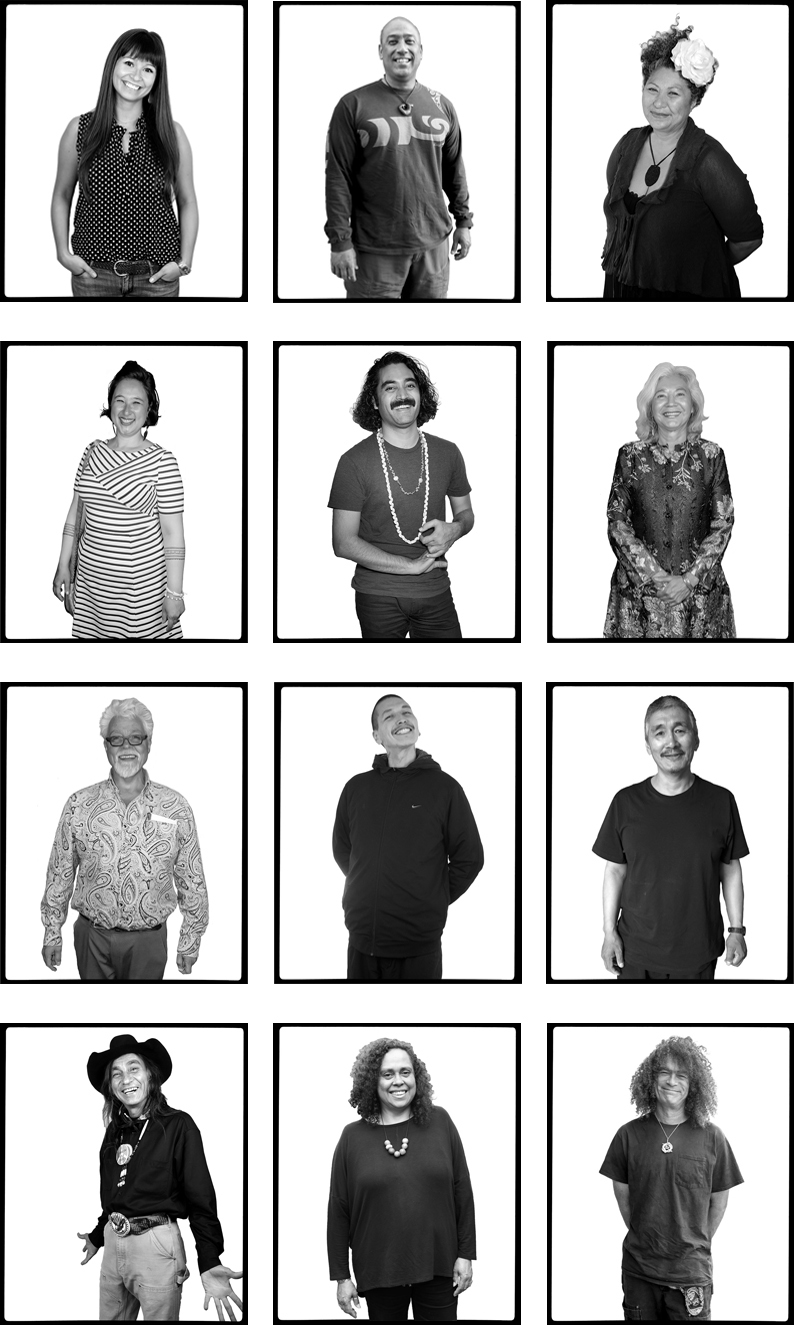 Above portraits from left to right, top to bottom: Alex Nahwegahabow, Beau Jack Imua Key, Julie Tipene-O'Toole, Laakkuluk Williamson-Bathory, Léuli Eshraghi, Louise Bernice Halfe, Michael Nicoll-Yahgulanaas, Patrick Ross, Pierre Aupilardjuk, Richard Ray Whitman, Sonja Hodge, Tom Mehau
The series I call Facing the Camera is the start of a large document of Indigenous artists. Between the years of 2008 and 2018 and in various locations in Canada, the United States, and Australia, I met over 500 individuals to take their portrait. I am very aware of Indigenous peoples' very problematic relationship with photography, and how much they have quite rightly viewed the medium with suspicion. The legacy is one of subjugation where the "camera was another weapon in the wars of domination." Nonetheless, I have received enormous support from my fellow Indigenous artists.
The impetus for the series derived from my realization that a document had not been made of individuals who make up the Indigenous arts community. I have liked taking portraits of people, and that coupled with the opportunity of going to the a Banff residency in 2008 and seeing all these artists together as a group, made me want to embark upon this documentary project. I have continued to photograph artists in different cities in an attempt to give as much representation to my community as possible.
In these images, as in all my work, I see the photograph as a performance space, where identity is constantly worked and reworked, represented, and perhaps hidden. I use the portrait convention to acknowledge the agency of the individual in bringing together in a conscious and unconscious way, the numerous cultural and personal factors through which the sense of self is expressed. This idea applies to me taking pictures of my self, and others, who stand before my camera, seeing their selves revealed in the photograph.
The various locations and suites are:
Thank you to everyone who has been part of Facing the Camera.
View the complete series below.